Hanna Rubber offers one of the industry's largest inventory of O-rings including every standard AS-568 size. We also carry a wide variety of metrics and non-standard sizes. Most likely the size and compound you require is in stock. Our O-ring inventory is constantly restocked to assure immediate delivery.
O-rings are used for sealing liquids or gases against leakage and loss.
Most O-rings are elastomers, although rings are also available in hollow and solid metals, plastics and PTFE.
When properly designed into an appropriate 'gland', an O-ring can seal against a wide range of pressures and temperatures, cost-effectively and with minimal maintenance. It is critical when designing an O-ring into an application to consider the gland size/fit, chemical compatibility of the fluid or gas on the seal, compression forces, temperature variations, pressure requirements, and any other outstanding issues that might adversely effect the seal.
Large Orings Continuous Molded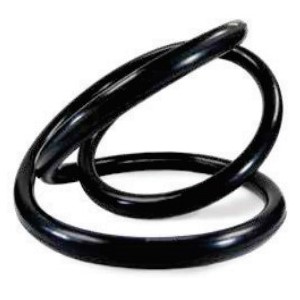 Mechanical performance comparable to traditional O-Ring manufacturing process. Available in NBR 70-90 / HNBR 70-90 / EPDM 70-90 / FKM 70-90 Download Data Sheet Large Orings Continuous Molded
Oring, Orings