Hanna Rubber is an industry leader in Extruded Rubber sealing Products.
Hanna rubber stocks many different profiles and also designs custom extruded profiles in any size or shape and length in a wide variety of solid rubber compounds in various durometers (hardness).
Sponge and Foam rubber extrusions in standard profiles are also stocked.
Custom profiles can also be designed in any size and in many different compounds, and offered in small runs for all OEM and aftermarket applications.
Available
Rubber Extrusions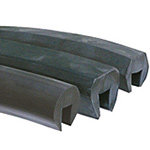 Hanna Rubber stocks many different solid rubber extrusions ready to ship. We specialize in custom design and specification of high quality solid rubber compounds like neoprene, EPDM, Nitride, SBR,...