Features:
Four-piece construction
Band slots designed for strength and smooth action
Saddle interlocks into embossed band to form a true concentric circle
Slotted hex head screw design
Heat treated screws have buttress thread type
Maximum recommended torque 50 in. lbs.
Torque ratings correspond to the torque rating of the screw of the clamp and are not an indication of the working pressure of any hose assembly installed with this clamp.
Aero-Seal Clamps Style 100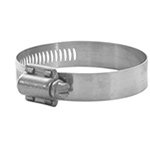 Band and housing: 300 SS Screw: plated carbon steel
Aero-Seal Clamps Style 200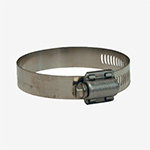 Band and housing: 300 SS Screw: 410 stainless steel Safety collar or thumb screw available