Flexible tubing offers a broad range of chemical and corrosion resistance, excellent abrasion and wear resistance, rubber-like flexibility, visual contact with the flow (clear pvc tubing and hose styles), and outstanding flow characteristics.
These features, along with various construction options offered (wire or braid reinforcement, rigid pipe, unreinforced) and the different formulations available (fuel and oil, 3A, FDA, NSF), make PVC attractive for so many applications. These include general industrial, food, pharmaceutical and medical, chemicals, fuels, oils, and mechanical applications including protective coverings and insulation sleeving.
Poly Spring Tubing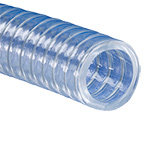 3A - The PVC compound complies with the criteria in 3-A Sanitary Standards for Multiple-Use Plastic Materials, number 20. FDA - The PVC ingredients used are sanctioned for food...