Y line strainers are used to automatically remove unwanted solid debris from liquid, gas and streamlines by use of perforated or wire mesh strainers. Strainer branch must be position downward when installed to allow for gravity to catch solid debris flowing through.
Bronze Y Line Strainers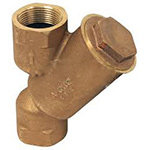 Cast bronze body, female x female NPT ends 400 PSI WOG, 300 PSI working steam pressure
Cast Iron Y Line Strainers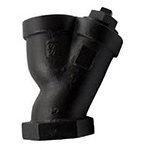 Features: Cast iron body, female x female NPT ends Graphite gasket 400 PSI WOG, 250 PSI working steam pressure Plug ported from blow down service...