Spray adhesive offers a quick an convenient method of applying a high quality fast drying adhesive.
Spray adhesive are ideal for projects around the home or business, typically used for bonding paper, cardboard, fabric and foam to plastic or metal.
3M Foam Fast 74

3M FoamFast 74 Spray Adhesive is a fast tack adhesive available in an orange and clear formula. Its high content of adhesive solids provides high coverage. It quickly bonds...
3M Hi-Strength 90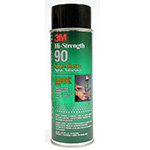 Spray Adhesive is a very strong, fast-drying, contact-like adhesive which is ideal for bonding decorative laminates. Its variable valve provides a precise spray pattern width of 1" to 4". Common...